Dental implants in Gdansk

For many years in our surgeries, we have been carrying out full diagnostics and all surgical procedures related to implants. We use only the most modern implant system (conical connection) from one of the world's best manufacturers – NeoBiotech, which we always adjust to the individual needs of the patient and depending on the complexity of the case and the patient's capabilities. We are able to effectively solve both simple and very complicated cases. We recommend implants as the best solution in the case of: a single missing tooth, several missing teeth and/or all missing teeth (where the patient currently wears dentures).
What is an implant?
An implant is the best method of restoring a lost tooth, so that the final visual and health effect is fully natural. Implant treatment consists of placing an artificial titanium "tooth root" in the jawbone. Following the recovery period after implantation, the tooth is rebuilt using a ceramic crown, which is an excellent copy of a natural tooth. The advantage of an implant is that the human body does not react to the titanium implant as if it were a foreign body, and so, does not cause any defense response. This allows regrowth of the bone around the implant. Therefore, people who have had an implant claim that it has become an integral part of their body and feels as natural as having a permanent tooth.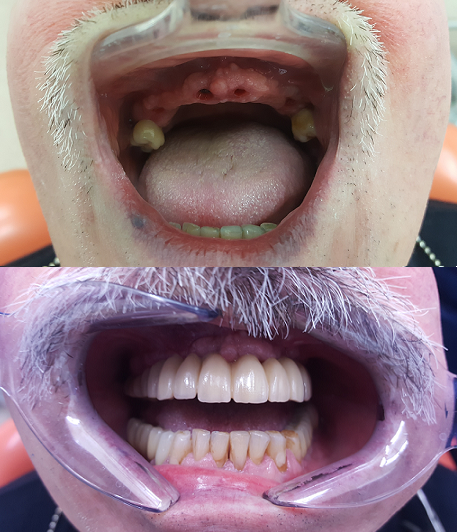 Dental implants in Gdansk